Review: Logitech G13 Advanced Gaming Keyboard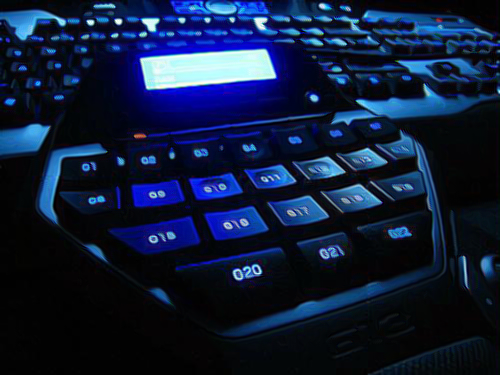 The Logitech G13 Advanced Gaming Keyboard is much more than an accessory for playing games - it may increase your productivity with other tasks such as writing code or using Photoshop. It has 22 macro buttons, with three states each, for a total of 66 macro keys. You can choose from any color for the display and button lights, and set different colors to each set of macros so you know which set you are using. Since these became popular, Logitech has vastly improved their control software, and recording macros is a breeze now. The device also has a joystick style input, which can be bound to keystrokes, macros, mouse emulation, or an analog joystick.
In addition to the colors and macros, there is a monochrome display screen at the top of the device, that is backlit with whatever color you want. This is a contextual display, if a program you're using has had a plugin developed for this device, it will display useful information about that program. It can also display a clock, a stopwatch / eggtimer, CPU usage (with separate bars for each CPU!) and RAM usage, and RSS feeds, just to name a few. It's pretty low resolution, but the text is crisp and readable.
The device has some heft, and doesn't slide around without a fight, which is great for always having it in the same place on your desk. There's a metal plate on the bottom under the screen, and standard Logitech thin feet on all the corners. It is shaped somewhat like an hourglass, and the contours fit your hand nicely, cradling your wrist and allowing your fingers to sit in the slight concave area that is home to the macro buttons. The buttons are different sizes and shapes, giving a more tactile feel to the unit; as well as having indentations around the "home cluster" which default to "W A S D" on a regular keyboard when not using macros. Gamers may notice this is the default movement key bindings for most games. The joystick is solid and springy. It has a button if you push down on the stick, but most people feel it is too stiff or hard to push, and I am inclined to agree; I just don't bind it to anything.
Even if you're not a gaming enthusiast, I recommend trying one of these devices out if you think that having access to a dedicated macro input device would help your workflow out. Did we mention that it looks really slick on your desk, too?